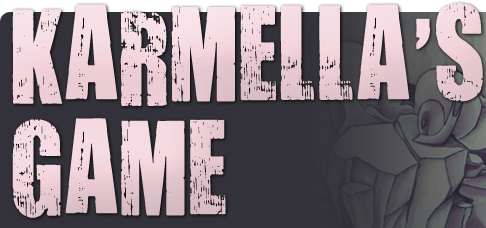 ---
Spotify
by Mandy on October 19th, 2011 | updates comment Comments Off
All of our albums are now on Spotify for your listening pleasure! Add us to your playlists and spread the Karmella's Game love!
Click here for Karmella's Game on Spotify!
---
What do you want to hear?
by Mandy on July 25th, 2011 | updates comment Comments Off
We need your help making a setlist for our upcoming shows in Baltimore. Head over to our Facebook page and choose up to 8 of your favorite Karmella's Game songs. We'll make a setlist based on your choices!
8/8/2011 Update: We tallied the results of our Facebook setlist poll! Here are the top 10 songs organized from most to least votes. We'll be using 4 or 5 of these for Insub Fest and at least 8 of them for the CCAS. Thanks to everyone who participated!
Coming, Going, Leaving
The Pit
Skip the Funeral
A Lullabye
A Test
Cyberspace Lip Gloss
Not the End
Tour Boyfriends
Diversions
Safely Negative
---
Insub Fest Passes + Sunday @ The CCAS!
by Mandy on July 1st, 2011 | updates comment Comments Off
Single day passes for Insubordination Fest are now on sale! If you like want to see us play with some awesome pop punk bands, grab a ticket here for Saturday, August 13th.
We're also happy to confirm our show on Sunday, August 14th @ The Charm City Art Space!
For details on both of these events, check out our Shows section!
---
Insubordination Fest 2011

by Mandy on June 2nd, 2011 | updates comment 2 Comments
We're excited to announce that we will be back at Insubordination Fest this year in Baltimore at The Ottobar! We're joining an incredible line of over 40 pop and punk rock bands spanning August 10th-13th! We will be playing early on Saturday the 13th. Tickets go on sale May 31st and they go fast – it will definitely sell out!
We're also going to try and squeeze in a show on the 14th for those of you who don't plan on attending the fest but want to see us play. Stay tuned for more info.
Insubordination Fest 2011 Lineup and Ticket Info:
August 10th @ The Sidebar (Kickoff Party Show)
Motorettes
Sick Sick Birds
Mallstars
Degenerettes
Flamingo Nosebleed
Braceface
Singleton
Lexington Arrows
Mandroids
Thursday, August 11th @ The Ottobar (Pre-Show) $12 tickets
Shutouts
Barecat
Army Coach
Dead Mechanical
Direct Hit
Young Hasslehoffs
Connie Dungs
August 12-13 @ The Ottobar $60 fest pass
Friday 1 – day pass
Marshmallows
Mixtapes
Be My Doppleganger
Firecrackers
Jetty Boys
Dopamines
Kurt Baker
Mikey Erg
Danny Vapid and the Cheats
Saturday 1-day pass
Quarintines
Sun Puddles
Karmellas Game
Murderburgers
New Creases
Fatal Flaw
Max Levine
House Boat
Potatomen
Emily's Army
Beatnik Termites
Dear Landlord
Kepi
Copyrights
Chixdiggit
---
Art Fight This Friday, 10/15
vape shop washington pa

by KTO on October 14th, 2010 | Uncategorized comment Comments Off
Aaron, Joe and Katie's new band, 5th Wheel and the Double Dates has a show tomorrow. This new band features Amy Greco-Smith and Adam from Avec.
SUPER ART FIGHT 8
featuring MC FRONTALOT
5th WHEEL & THE DOUBLE DATES & comedian MIKE RODMAN
The WHEEL OF DEATH gives the battling artists
new topics at timed intervals that must be
incorporated into their piece, less they face
the audiences wrath.
The victors are chosen by the audience,
and to the winner goes the spoils –
THE SUPER ART FIGHT CHAMPIONSHIP TITLE!
For more details and to feed the wheel visit www.superartfight.com
Doors open at 9pm/ Show at 9:30pm- ALL AGES
New Website, Upcoming Show 8/22!
by Mandy on August 10th, 2010 | updates comment Comments Off
We are excited to launch our brand new website created by Nathaniel Kraft! The old site was innovative and fun, but the new design will allow us to easily keep the website up to date. We've posted a couple new items to the Store section as well as new Video links. Take a look around and feel free to add comments!
It's been a quiet year so far for Karmella's Game but quite the opposite for us individually! Between crazy school semesters and weddings it's been a super busy year. Mandy got married in July and Aaron is getting married next month! In celebration of Aaron and Amy's wedding, we are playing a show at the Sidebar on Sunday, August 22nd. Check out the Shows section for more details!
---
Some Bad News: Show Canceled
by KG on August 10th, 2009 | touring, updates comment Comments Off
So we've got bad news – our Tuesday show in Cincinnati was canceled due to the house getting shut down earlier this week. However, it turns out we have much bigger problems. The van didn't make it out of Baltimore without having troubles so we stopped to get it checked out before driving 8 hours to Knoxville. The problem ended up being with the transmission which is going to be too expensive for us to even get it looked at much less fixed. It seems as if the KG church bus is dead.
The good news is we're going to borrow our dear friend Amy's minivan and start what's left of the tour this Wednesday in Nashville. We're going to borrow equipment from other bands and make it work! We're happy to not have to cancel all together and look forward to seeing some friends this week!
---
New Album: "You'll Be Sorry" Available Now!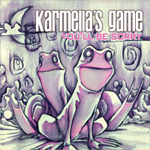 by KG on July 24th, 2009 | album, music comment 2 Comments
You'll Be Sorry album coverYay! A new full length! You can NOW purchase the new "You'll Be Sorry" as well as KG's other releases from Insubordination Records. Go! Hurry! We are very proud of the CD and hope you like it too!
Our label has this to say about it:
"Karmella's Game has built up quite a following. N
o wonder, they write some of the most infectious female fronted, pop songs imaginable. Their first two releases on Baltimore's Speedbump Recordings are bright, hook laden and memorable. KG's studio recordings have this way of drawing in the listener by emulating the fun and energy of their live show. Their sophomore album, "You'll Be Sorry" is no different; KG has been able to sustain this energy. "You'll Be Sorry" features fan favorites, "The Pit" and "A Test," two songs that are sure to unabashed indie hits."
Also, please keep checking back as we are working on an August mini tour. More info coming soon!
---
New Album in Post-Production

by KG on May 25th, 2009 | album, music, updates comment Comments Off
The CD is on its way to being pressed! Please join us at the release show, July 3rd at the Ottobar. Tour dates will be posted soon. So keep checking in!
---
New Live Album Out Now!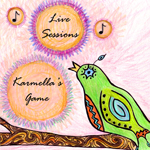 by KG on March 27th, 2009 | album, music comment Comments Off
Live Sessions album coverAs of today, our new live album entitled "Live Sessions" is available for purchase from the Insubordination Records website. Here's a blurb from the insert to give you an idea of what it's about:
"While these live performances are far from perfect, we wanted to give a sneak preview of some new songs from our upcoming album as well as throw in an "oldie" just for fun. Live Sessions is also an opportunity to present our music in a form outside of the studio setting. Beginning with our
performance on Adventure Club, we wanted to let you hear a more subdued side of Karmella's Game that isn't often heard. Finishing up with selections from our set at Insubordination Fest, we hoped to capture some live energy that can sometimes be lost when in the studio. Hope you enjoy!"
We also wanted to give special thanks to those who have recently volunteered their time and services to us as well as those who have generously donated to our recording fund. We really appreciate your support: Gary Harthausen, Jennifer Stallings, Matthew Smith, Jamie Grace, Lily King, Quinn Callahan, Josh Venable, Alex Thomas, Jody Scofield, Matt Lame
In other news, we have 3 shows in a row lined up for April so mark your calendars! We're on the home stretch with mixing the new album and are still shooting for a June release!
4/16 – The Black Cat (DC)
4/17 – The Sidebar (Baltimore)
4/18 – The Trash Bar (Brooklyn)
Karmella's Game

You'll Be Sorry
12 track LP
Available Now
On Insubordination Records
Get the latest news, show dates, and more in your inbox! Join our mailing list.